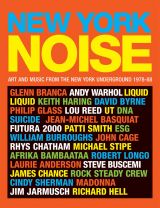 Soul Jazz Records ha ido editando diversas recopilaciones sobre el sonido de Nueva York a finales de los 70 y principios de los 80 bajo el título de New York Noise. Ahora culmina la serie con este libro de fotografías (y algunos textos de famosos de la época)
Aquí podemos ver once fotos que incluye el libro: http://www.guardian.co.uk/music/gallery/2007/nov/23/1?picture=331356179
New York Noise brings together the work of Paula Court, the iconic photographer who captured the debauchery, sleaze and art of 1980s New York. Lou Reed, ESG, Richard Hell and George Clinton are just a handful of the musicians who appear in this stunning book of images representing New York's underground scene, or as David Byrne called it, the 'bohemian living museum'.


"New York was a scary and legendary place and downtown was like a bohemian living museum, which was pretty thrilling for an aspiring artist and musician. It was all very new and exciting, at least for me and it was incredibly funky, the sleaze and poverty were everywhere."
DAVID BYRNE

This is a unique, luscious large format book from Soul Jazz Records and our first publication. New York Noise features amazing photographs of the New York music and art scene during the 1980s alongside text from some of the most important musicians and artists of the period.

With hundreds of stunning photographs of everyone from Andy Warhol, Africa Bambaataa, Martin Rev, Richard Hell, Lou Reed, Keith Haring, Patti Smith, John Cage, Michael Stipe, Liquid Liquid, Julian Schnabel, Futura 2000, Madonna, Jean Michel Basquiat, ESG and many more the book is a who's who of New York's downtown scene during this period..

The book shows how Hip-Hop,Punk, No Wave, Free Jazz, Underground Dance and Experimental music scenes collided with the art world over a ten-year period and captures the vibrancy of this era when everyone in a band was also an artist, every artist was also a film-maker and every film-maker in a band.

Accompanying text by the likes of David Byrne, Laurie Anderson, Cindy Sherman, Suicide, Liquid Liquid and many others brilliantly evoke the vibrant New York scene in its heydey and make this a unique product of great beauty and unlike anything else you have seen!

With over 400 images, most of them previously unpublished, this is an essential document of a fascinating era in New York's music and art scene – a must have for everyone! Hurry, limited quantities.