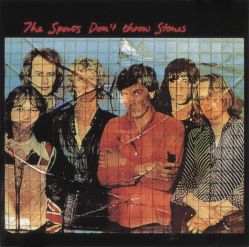 Después de leer la crítica de Kiko Amat en el Rock de Lux, me he agenciado el nuevo box set de Stiff Records. No le había prestado atención ya que tenía el primero y no pensaba que hubiera grandes diferencias, pero las hay y vaya si las hay. Sobre todo en su extensión. Este nuevo box set además de incorporar los grandes éxitos del primero, saca a la luz singles más oscuros y entre ellos he descubierto esta gema pop de un grupo australiano costelliano llamado The Sports (menudo cutre nombre; muy nuevaolero si, pero...) Este fue su hit: "Who Listens To The Radio", una letra no muy profunda si, pero muy nuevaolera...
This girl in her bedroom doing her homework
She's foolin' with the logarithms, she's going berserk
One hand has a cigarette resting on the window
The other one's twiddling with the radio
What did they talk about, the horses drive her nuts
Night time, sounds fine - no if's or but's
It's just some magic, there's still some fun
If you don't pay too much attention
Who listens to the radio?
Who listens to the radio?
That's what I'd like to know
Who listens to the radio?
Guy's got his transistor wrapped around his ear
He listens to the traffic, it's not really clear
It crackles, it clicks, it pops, it starts
It's blastin' out the top forty charts
AM or FM, I listen to both of them
Listening to the radio since I don't know when
It was so busy, everyone's got somewhere to go
In the background there's always the radio