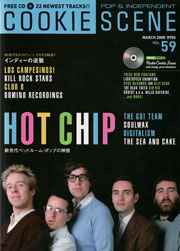 Esto es una de las dos portadas que lleva el nuevo número de Cookie Scene, la revista bimensual indie japonesa por excelencia. Contenidos:
side-A (Mar.) cover HOT CHIP / side-AA (Apr.) LOS CAMPESINOS!
FEATURES
HOT CHIP
LOS CAMPESINOS!
CLUB 8
SÄKERT
MAIA HIRASAWA
label feature:Domino Records
label feature:Kill Rock Stars
LAST DAYS OF APRIL
SHOUT OUT LOUDS
FREE CD INSIDE
radio cookie scene
THESE NEW PURITANS
LIGHTSPEED CHAMPION
CASS McCOMBS
IDA
ALLY KERR
THE DEAD TREES
XIU XIU
SÄKERT a.k.a. HELLO SAFERIDE
...and MORE!