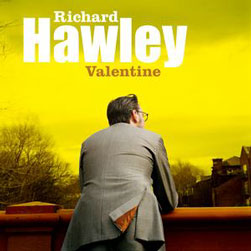 Valentine is taken from Richard Hawley's top ten album Lady's Bridge.
Valentine is released on CD, 7" and download. The 7" is backed by Richard's version of Lonesome Town by Ricky Nelson, the CD features a new Hawley instrumental, Sheffield on Sea, an acoustic version of Roll River Roll and the video for Valentine, directed by Shane Meadows. Available exclusively on iTunes will be an acoustic version of Valentine.
Richard on Valentine:
The chorus is one of the oldest pieces of music I've ever written. I could never get anything else to go with it. But I picked up the guitar in the studio and started singing the chorus and then I made up the verse on the spot. I don't like being over prepared, I like to keep that Sun Studio vibe where the red light comes on and it's like, "C'mon son, what have you got?" It's quite tragic that song, it's like a kind of Yorkshire Shakespearian tragedy. It's about somebody who's made themselves really hard after heartbreak. I've been through that. I was there once in my early twenties before I met our lass, you make yourself into something you're not. The song is about a tender moment where you face the truth."