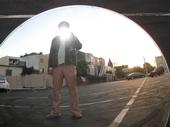 A primera escucha el pophit es "When You Forget"
THe NEw album is done, in the can, ready to go : its called "circular Sounds" which barely defeated "The Glass Moustache" and "Prism Breakout" for new album title. Its gonna be released on February 6th of 2008. AND for the folks in the united kingdom, my group will be winging our way to your shores this fall...we are pleased to announce that we'll be performing a number of shows over 2 weeks in november 2007, to coincide with the release of a new single "YOUR REVERIE" b/w "OWL SERVICE" which will be released by SubPop on 7" vinyl and via I-Tunes on November 5th.
Circular Sounds is set to arrive February 5 via Sub Pop, packing 14 more examples of that signature Stoltz sunshine onto one thin plastic disc. As Stoltz describes it, he's no longer "lo-fi", having embraced what he calls a "mid-hi" aesthetic on the new offering.

"I work in a second-hand record store and that's made me more of a hi-fi advocate," Stoltz explained via press release. "It's hard for me to listen to stuff that was recorded on a cassette player nowadays. By the last record I was mid-fi. I think I'm mid-hi now!"
El clip pertenece a "Ever Thought of Coming Back" by Kelley Stoltz from his album Below the Branches