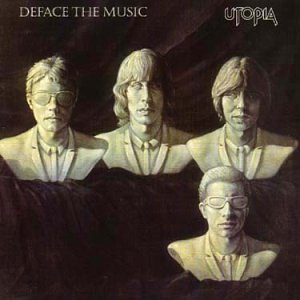 El lp en el que The Beatles se hicieron llamar Utopia con Todd Ruddgren al frente.
Dos Superhits: "I Just Want To Touch You" y "Always Late"
By 1980 Todd & Utopia were sick of thier relationship with Bearsville Records and wanted out of thier contract. So to quickly take care of another "Contractual Obligation" they whipped up this album of Beatles sound-a-likes. I'd like to see the faces of the Bearsville/Warner Brothers executives when they heard the album for the first time!

I remember the LP getting a lot of bad and negative reviews at the time (one said they were aping The Knack this time around), but I loved it. It was ment not only as a record company screwjob but like the Rutles it was also to poke fun of and downplay the Beatles critical imporance in history as "Rock Gods". ("We were just a BAND" - John Lennon)

But this album is far better than the Rutles simple re-writes of Beatles classics. Deface's songs are better written and super-loaded with killer hooks (its also fun to guess "what song is it really?"). Todd's engineering work, which apes George Martin's classic Abbey Road 4-track productions is always stellar.

Instead of sidelong synth art rock as the early Utopia, or AOR rock on "Oops Wrong Planet" and "Adventures in Utopia" did, this album was the beginning of the re-invention of Utopia as a smart Power Pop group - which came to fruition on the S/T "Network Album" and "Obvilion". This is one fun album to fool people with (tell them it's a bootleg) and one of the best offhanded tributes to the Fab 4 ever..