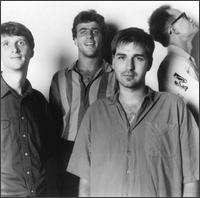 Merge editará en Marzo un box set (3 cds) de una banda favorita del popchef durante los 80: Big Dipper:Big Dipper are reuniting with the original line-up for a few very special shows in April! The dates land just as we prepare to release Supercluster: The Big Dipper Anthology! The 3-CD set will be available in stores on March 18, 2008!

04.24.2008 * Hoboken NJ @ Maxwell's
04.25.2008 * Brooklyn NY @ Southpaw
04.26.2008 * Cambridge MA @ Middle East Downstairs

For now, download "She's Fetching" HERE!
Esto es lo que dice allmusic de ellos:
A great band that never quite fulfilled their enormous potential, Boston's Big Dipper had impeccable indie credentials and an excellent line in crunchy post-post-punk guitar pop, but their later albums were no match for their early work.

Big Dipper was formed in 1985 when guitarist Gary Waleik and bassist Steve Michener left the original lineup of Volcano Suns, which they'd formed with drummer and vocalist Peter Prescott after the breakup of Prescott's earlier band Mission of Burma. Both uncomfortable with the idea of taking lead vocal chores, Waleik and Michener recruited singer/guitarist Bill Goffrier, who had moved to Boston after his former band, the Lawrence, KS-based indie pioneers the Embarrassment, had split up in 1983. Completing their lineup with local drummer Jeff Oliphant (formerly in an early lineup of Dumptruck), Big Dipper gigged around Boston and Cambridge for a while before recording their first EP, 1987's Boo-Boo, at the soon-to-be-famous Fort Apache Studios. Leading off with the killer "Faith Healer" (a song Goffrier had brought with him from the final days of the Embarrassment that would prove to be one of Big Dipper's most popular tunes, even getting covered by Shonen Knife), Boo-Boo was well-received on both the local and national indie scenes. Later the same year, the full-length Heavens was released (with no overlap from the EP, which was included on the CD issue) to even greater acclaim. An excellent synthesis of sunny power pop, neo-psychedelia, and indie rock angst featuring gems like "She's Fetching" and "All Going Out Together," Heavens is one of the finest American indie albums of its era.

Unfortunately, 1988's Craps is a comparatively weaker effort, with less sharp songwriting and a more sedate vibe. (Goffrier at this point was dividing his time between Big Dipper and a temporary Embarrassment reunion, which might account for his less striking contributions.) After that release, Big Dipper surprisingly signed with Epic Records. Like their Boston compatriots O-Positive, who had signed with the same label around the same time, Big Dipper's one and only major-label release is a major disappointment; 1990's Slam features far-too-slick production, with intrusive brass sections and too much emphasis on the rhythm section. Demoralized by the lack of critical and popular success for the album, Big Dipper broke up shortly thereafter. Michener moved to California and briefly worked with Barbara Manning before retiring from music to become a nurse. Other than the short-lived supergroup Crush, Sr., which released one album in 1993, Waleik also retired, becoming a producer for National Public Radio.