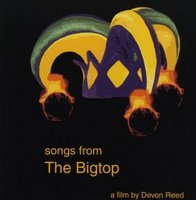 Curiosa BSO del film independiente "Bigtop" de Devon Reed, quien no contento con dirigir la película, ¡ha compuesto todas las canciones de la BSO! Aunque las canciones son interpretadas por bandas amigas suyas. Lo curioso es que las compuso pensando en el sonido de sus futuros interpretes y creo que lo ha clavado. Porque, por ejemplo, la de The Clientele suena 100 % al grupo pero es que la de Matthew Sweet, "Wild", suena como el Matthew Sweetde sus mejores tiempos (You can hear the Sweet song via Stereogum).
In his own words, here is director Devon Reed's
Soundtracked
essay for the soundtrack to his film,
The Bigtop
:
The film is about Vincent O'Malley, who runs away with the circus and essentially becomes a monster in his quest for power. I hate writing dialog but love writing songs, thus it became a musical. We wrote and performed some of the songs months before writing the screenplay, while others were written later, when we knew we were going to be making a circus film. "Falling in Love" and "The Girl Who's Above Us" were the most circus specific songs.
Lisa Germano
– "Magic"

Lisa was one of the first to get back to us, but she dropped out at one point because she couldn't get the proper read on the material. We hounded her for a year before she finally relented.
The Clientele
– "Your Song"

The Clientele track was chronologically the first one we shot. It was actually the first day of shooting and the first day that my choreographer and cinematographer were present. Apparently everyone was really skeptical after that first day. All of the actors with whom I had talked out the narrative weren't due to show up for days, so I was left to run through the early scenes on a more technical level. I was trying to convey a sense of whimsy and free-spiritedness and I think The Clientele's track helped that mood, but the day wasn't all cartwheels and goofy dances. It was only later that the storyline got darker and the drama a little more intense that my crew really started to understand what I was actually trying to shoot.
Michael Leviton
– "I Only Want the Sky"

Michael I heard on KALX for the first time and contacted him via MySpace. I met him when I was in Brooklyn and he pitched his version of the song to me which he envisioned as "Somewhere Over the Rainbow" meets "If You're Going to San Francisco". We made the most of a glockenspiel break, choreographing a scene where the market people play spoons on pots and pans in time to the music.
In the words of Michael Leviton:
I didn't read Devon's script or anything so I had to imagine a lot about what this movie would be like. Who knows if I imagined right? We'll see... Anyway, Devon explained to me the position of the song in the movie, representing the character's announcement that he wanted more out of life and so he was leaving home, which I told him sounded like the "Somewhere Over the Rainbow" point in the movie (I'm Wizard of Oz obsessed). So I thought the song should sound very hopeful and energetic but also naive and innocent. Of course, every time a character in a movie says, "I'm gonna go someplace better!" we can be sure that the character doesn't really know yet what he's getting into. So, that was the feeling I wanted to communicate with the arrangement, a sense of optimism that feels fragile. The song should imply that the optimism is going to be crushed very soon by the later events of the movie. I worked with my friend Bradley Banks to arrange and produce the song in his house, and we started by listening to "If You're Going to San Francisco", a tear-jerkingly beautiful but terribly naive song. I think I love it precisely because the narrator sounds so ecstatic and happy, but also so deluded and misled. Brad and I were inspired by that song in terms of feel and the rampant use of glockenspiel. Devon's song had no chorus so I wanted to figure out how to add dynamics and changes with the arrangement. Our solution? I improvised like crazy on glockenspiel! I love the instrument because it makes everything sound joyous and childlike. We made an instrumental section and I had this image in my mind of townspeople and circus people dancing in the streets. I don't remember if Devon told me this or if I made it up myself. But that's what I was imagining when working on the song.
Damien Jurado
– "Ashes"

The Damien Jurado track is one that is a little out-of-place in the context of the film. Some test viewers suggested that it might be okay to scrap from the final edit. It's a montage of little romantic moments with the sideshow females in the circus - the tarot card reader and the snake charmer. The lyrics are about being absorbed into those around you, suggesting a more accepting and carefree outlook, which I felt was essential to color the humanity of the main character in contrast to the later scenes. Damien's take on the song was so right for this moment in the film too. I had always played the song loud and energetic, but there are plenty of moments like that later on and the tone helps to paint Vincent's slow burn.
Matthew Sweet
– "Wild"
(
download this track at Stereogum
)
So I am leaving my house one day and I get a call from Seana (the producer) who tells me I have to absolutely stop what I am doing and go back inside 'cause she's in tears from just receiving the Matthew Sweet track. I gotta admit, it's pretty fantastic and we had the best time choreographing it on an Oakland rooftop one night.
Tullycraft
– "The Girl Who's Above Us"

Tullycraft actually did an entirely different version of the song after interpreting my request for alternative instrumentation in a way that produced a very electronic result. I told them I was actually looking for, ya know, circus alternative instrumentation, so they were good sports and turned over something reworked in just a month or so.
In the words of Chris Munford, Tullycraft
Devon's song was a bit of a challenge for us at first. It seemed more like a "sea chanty" than material Tullycraft usually tackles. We initially approached it with some abstract electronic instrumentation and developed the song about that. Then we looked further at the bridge area where Jenny seemed to be bringing out a heightened excitement around the "lion's roar" lyrics. This bridge part really shined through and we sent Devon a studio outtake of it in this early state. Devon's suggestion to try a different approach actually freed us to capture a better version. During recording the electronic version we learned the nuisances in the song and when we moved from sequenced beats and blips to accordion, real drums and guitar we had developed more passion for the song. The bridge section got closer to the potential we were hearing in the electronic version, and the whole song opened up a bit. We worked quickly to finish the track so the final mix might suffer from some limited analog mixing techniques, but we were pretty pleased with the result and enjoyed the challenge. Thanks so much to Devon for this opportunity.
Howe Gelb
– "Falling In Love"

Howe Gelb submitted something like thirty versions of the track, from which I selected one. One of the versions had this improvised a capella verse that was creepy and unique but just not right for the film. Even so we found the track to be so hallucinatory that we shot the musical number as a dream sequence.
The Owls
– "I Just Can't Keep Up"

The Owls I first heard while working at Live365. I gave the choice of a few tracks but they really liked the lyrics to "I Just Can't Keep Up". It was originally going to be just a side project but the whole band ended up coming on board eventually. This was a song that I envisioned the filming of really clearly. The idea is that they're all singing about modernity as they go to perform industrial sabotage (one of the main subplots of the film).
Communique
– "Way to Walk"

I was living with a woman who was dating the drummer of a band that opened for Communique. I liked their stuff and pitched the song to them on the basis that they did great verse-chorus-verse three minute gems.
Marbles
– "Something, Nothing, Everything"

We pitched "Something, Nothing, Everything" to a bunch of people including Phil Elvrum and Sufjan Stevens. We really wanted to find a producer who could do eight verses of highly varying orchestration. Finally, Robert agreed to take on the project for his side creation, Marbles.
Eleventh Dream Day
– "Planning My Escape"

So the Eleventh Dream Day track really opened doors for us. They delivered a stellar track really early on, so when we pitched the project we could say, "Well Eleventh Dream Day is onboard" and that got people listening. That's why we gave Rick a special thank you as well.
Doug Martsch
– "Cracked and Crazed"

Doug Martsch is the nicest guy in the world and was so eager to do "Cracked and Crazed". His enthusiasm really blew me away. I am a huge Built to Spill fan and to have Doug singing such praises of my work left me wandering the streets in a daze on many a night.
The Sprites
– "Patience"

I really liked Barcelona so tried to track them down for a slightly electronic version of "Patience". The idea for the film was originally supposed to mirror the Tainted Love Levi's commercial. Barcelona is no more, so Korzen's band, The Sprites, came on board for this track.
In the words of Jason Korzen, The Sprites:
It's no small irony that this song is called "Patience". It took me months and months to complete the track, and I did three versions of it. Devon was incredibly patient with me through the process. Probably the most difficult song I've ever recorded, because it was so different from the usual way I work.
Any chance to contribute to a soundtrack is exciting, but it was Devon himself who drew me into this project. I was so curious about who he was and loved what he was proposing with his movie. I actually spent a lot of time on the web trying to figure out if he was for real. I can't tell you how surprised I am that he is.