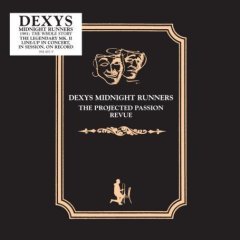 The Projected Passion Revue captures virtually everything Dexys Midnight Runners recorded in 1981. Comprising of three single A and B sides, a BBC Radio 1 Session and a BBC In Concert recording,
The Projected Passion Revue finds the group at the peak of their game artistically. The line up Kevin Rowland built around him had to display 100% commitment; as he says in his introduction "Something happened and the sound of this group became spiritual, much more than the previous line-up." To take this group to the people, Rowland devised a show which would only play in theatres, where Dexys would be supported by a dance troupe and comedians. The shows found the group transcending the boundaries of live performance and delivering memorably intense sets.
Aside from their three 45s, the group was never properly captured on vinyl. This CD, with its artwork based on the Projected Passion Revue programme is a fitting tribute to one of the most singular bands of all time. As Rowland adds, "what we were doing at this point was peculiar to us and nobody else and we meant every word."
The Projected Passion Revue will be complemented by a 25 Anniversary Deluxe Edition of Too Rye Ay in July 2007. Kevin Rowland and Dexys Midnight Runners are currently working on their first record of new material since 1985